Friday 10th July

Friday 3rd July

Friday 27th June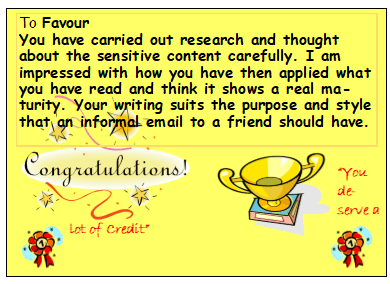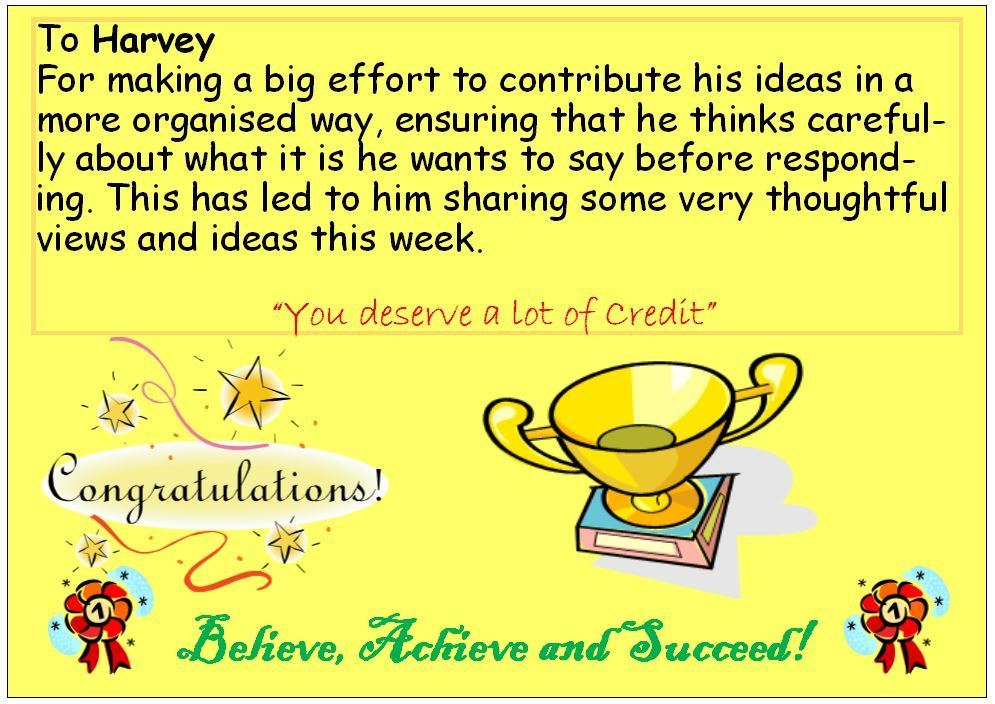 Friday 19th June 2020
Well done this week to you lovely folk who have used your brains so wonderfully. Some of you have shown some excellent problem-solving skills and Mr Nunns is so pleased to see you using a range of strategies to find mathematical solutions. I have seen a lot of people putting effort into carefully reading and researching our topic 'staying fit and healthy'. As such, the work you are producing is informative and very purposeful.
Friday 12th June 2020
Some very high quality work has been sent in this week but still not everybody. You know who you are! Please let us know if you need any help sending things in. Keep working hard lovely Rhinos it will make all the difference when you get back to school!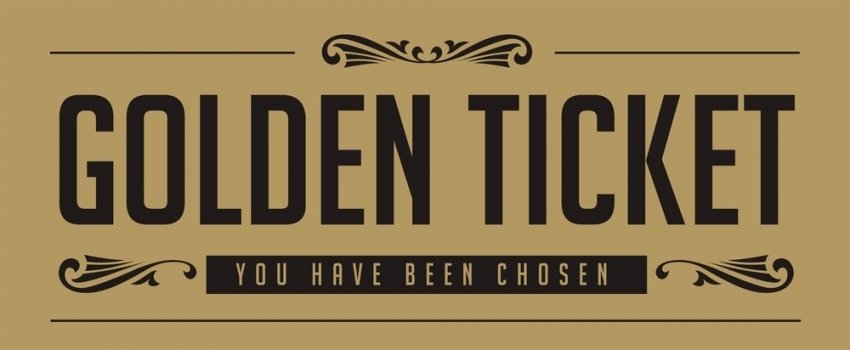 Friday 5th June 2020
Here are the golden tickets for this week's worthy winners.
Unfortunately, there are not enough of you sending us examples of your work.
We can only give Golden Tickets to people who show us what they have done.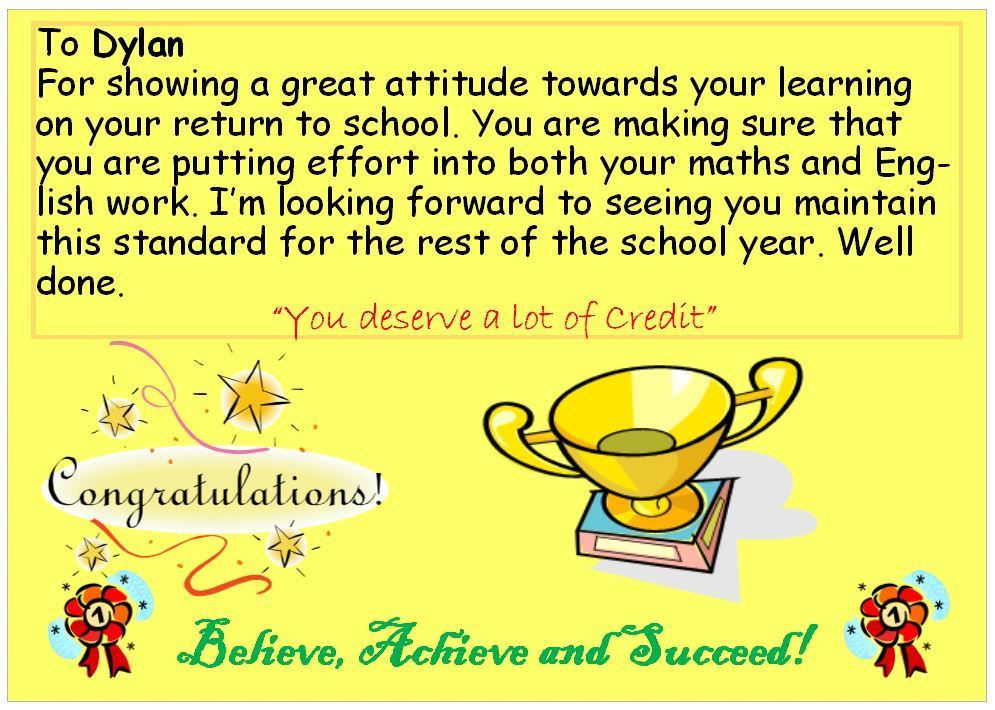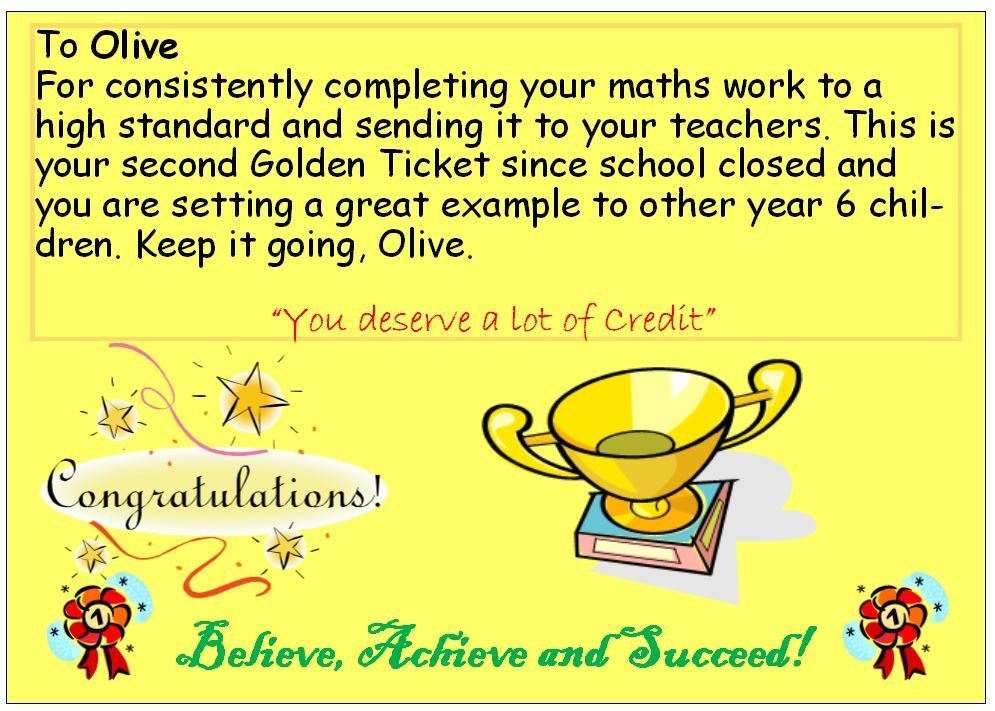 Well done to these four Rhinos!
Have a great half-term everyone!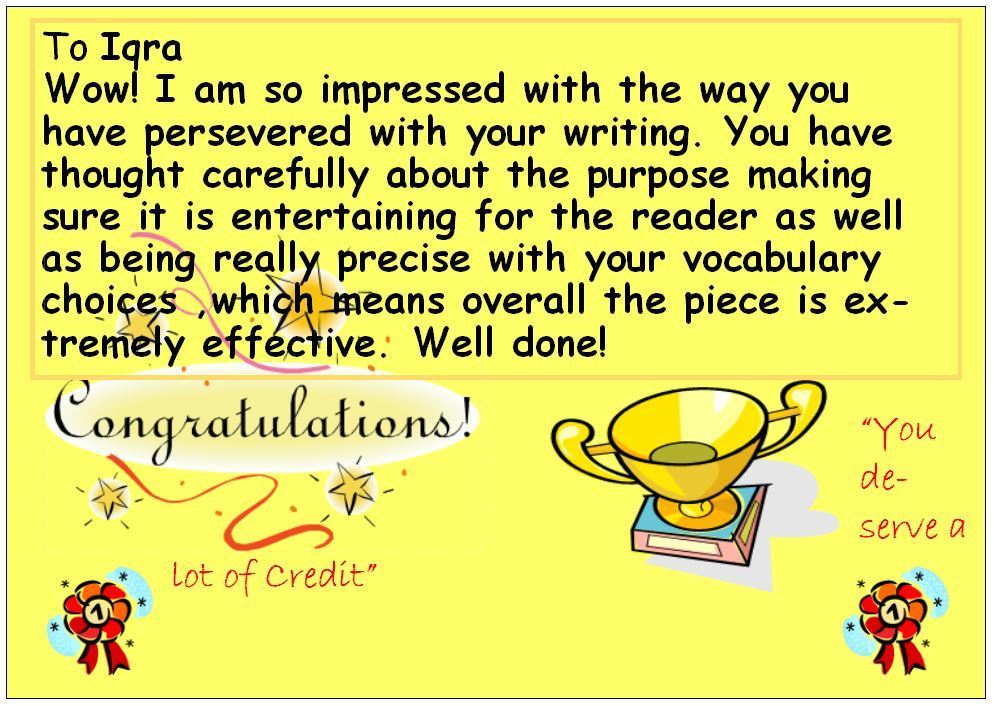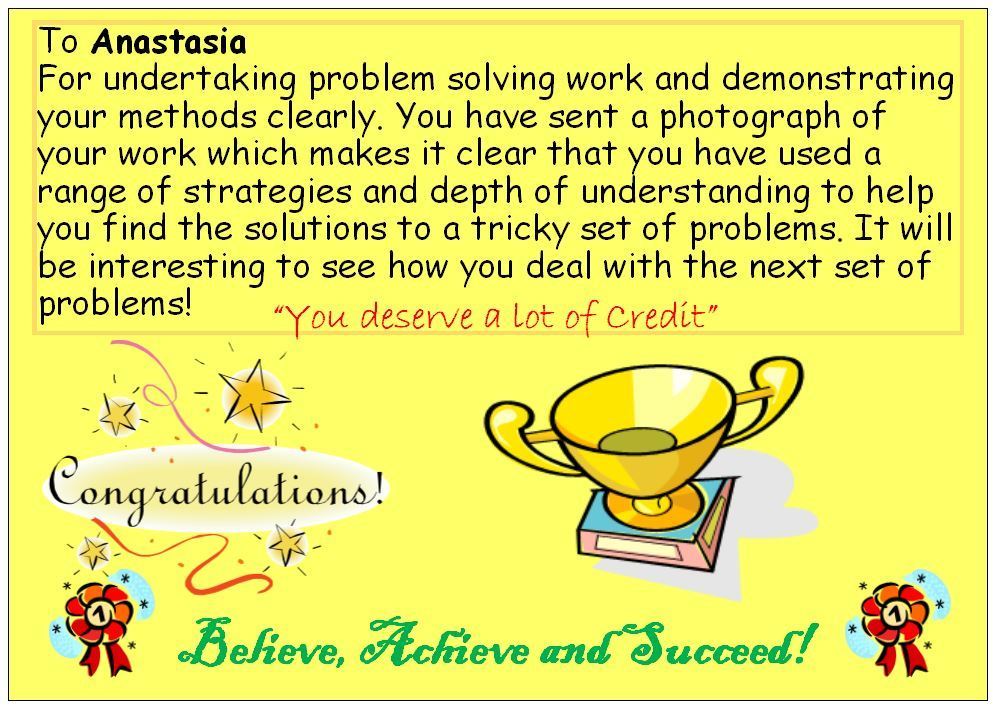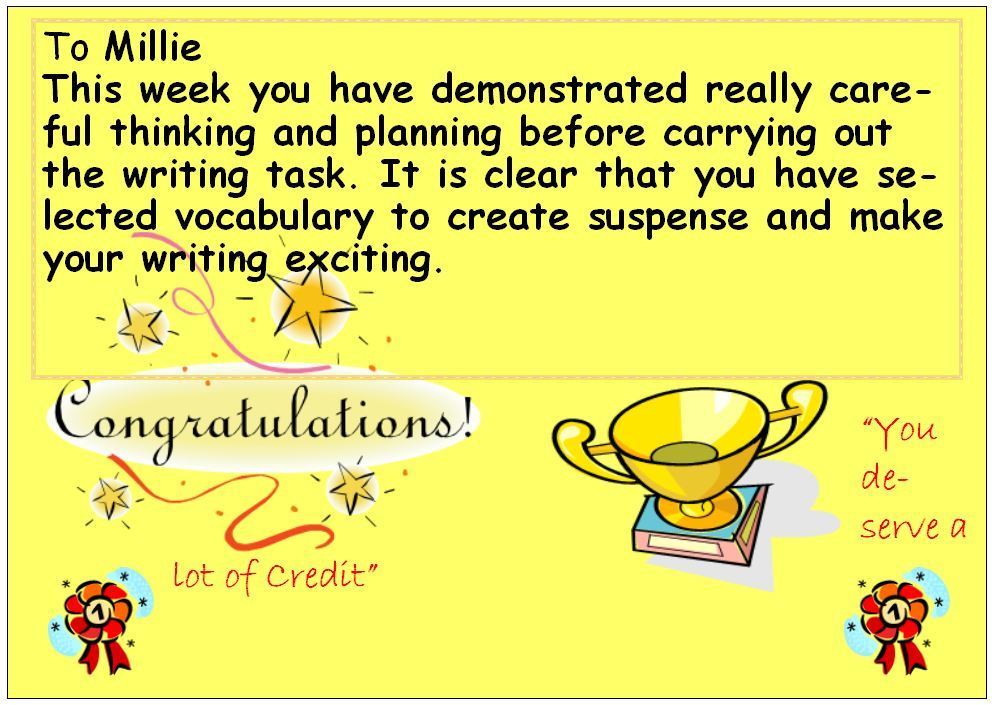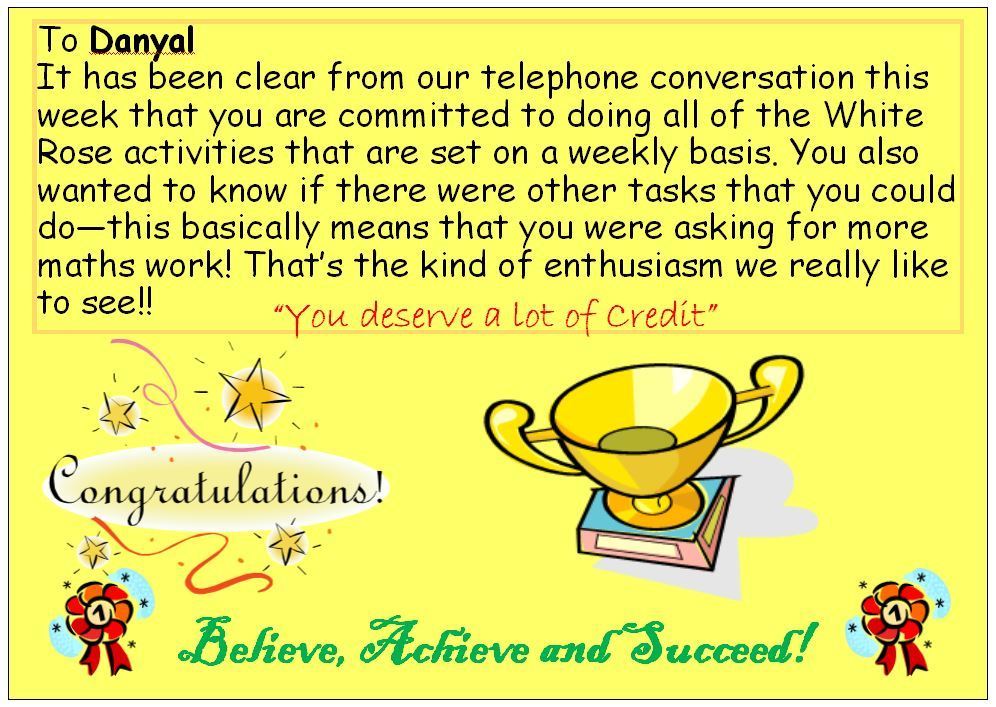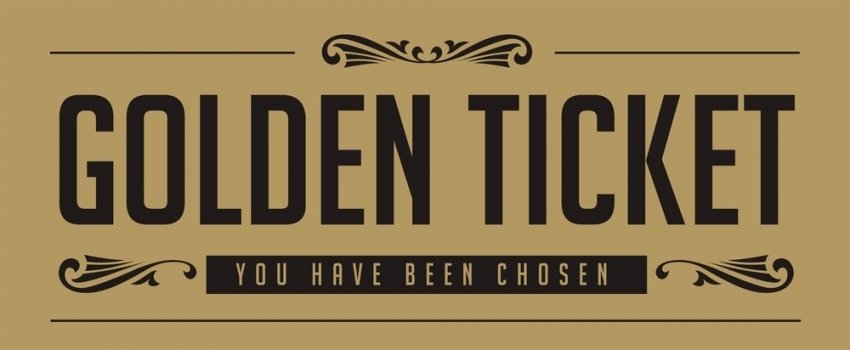 Well done to these four Rhinos who have proved that they wont let the lockdown get in the way of their learning.
If you didn't get one this week, you must send us examples of your work in all subjects to be in with a chance.
Come on Rhinos, keep going! You can do it!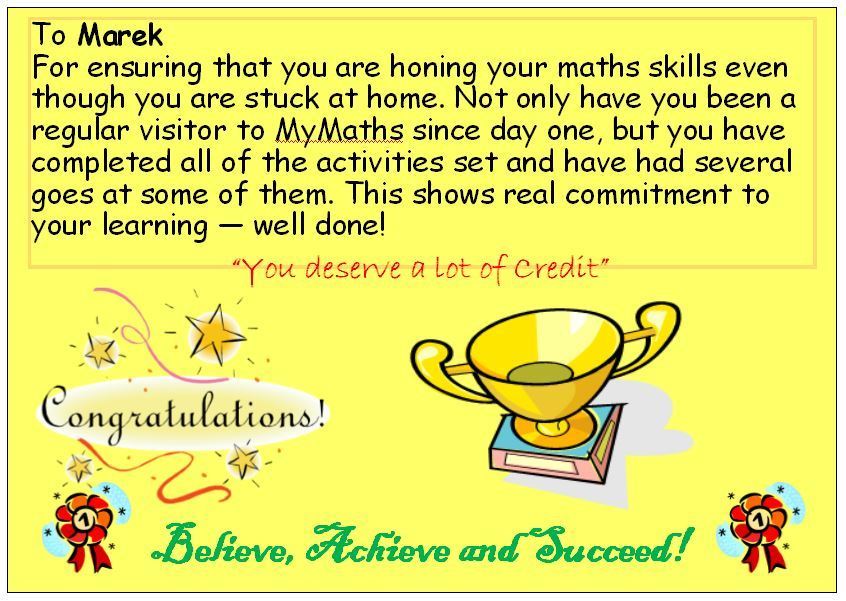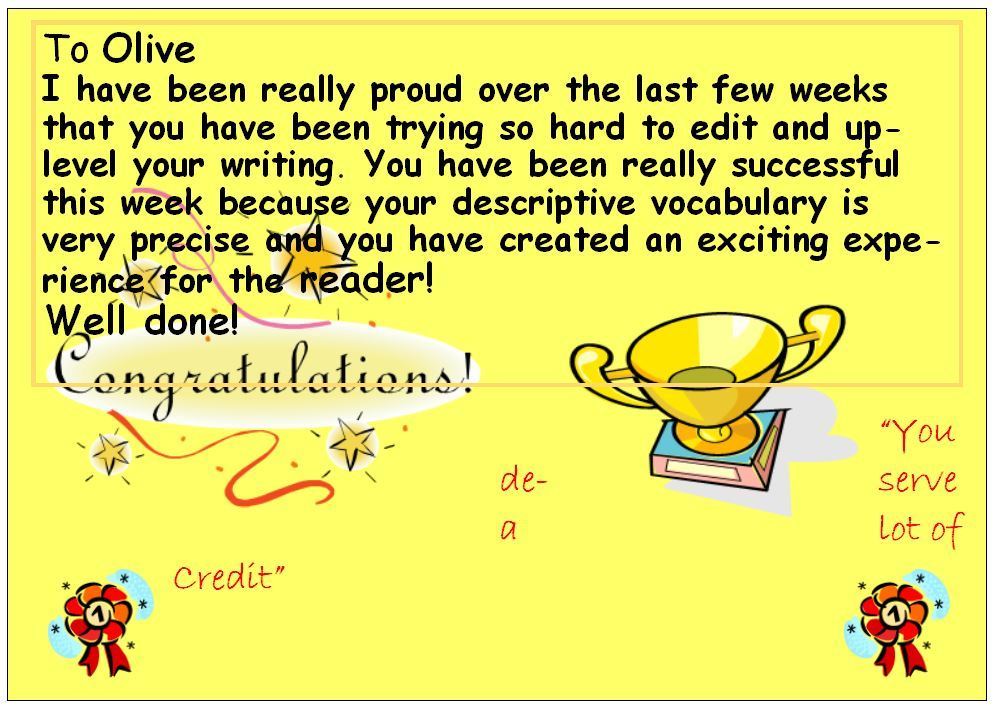 In this really difficult time, during a health pandemic, it even more important to understand how to stay fit and healthy , physically and mentally. Well done to all the Rhinos who are putting lots of effort into all the home learning activities. We are setting these to try and help you to become more knowledgeable yourselves and so that you can help advise your families on the best way to fight off a dip in your well-being or your health. Eating well, exercising, avoiding things that are harmful (such as smoking or drinking too much alcohol) and most importantly looking after your mental health - through stay connected and communicating with others- is right at the top of our agenda! We think you have been doing amazingly well and want to say that the positivity and resilience you are displaying now will help you so much in your bright, bright futures!
This week, you needed to design a leaflet that we could send to families during Covid 19 to help inform them how to stay fit and healthy.
l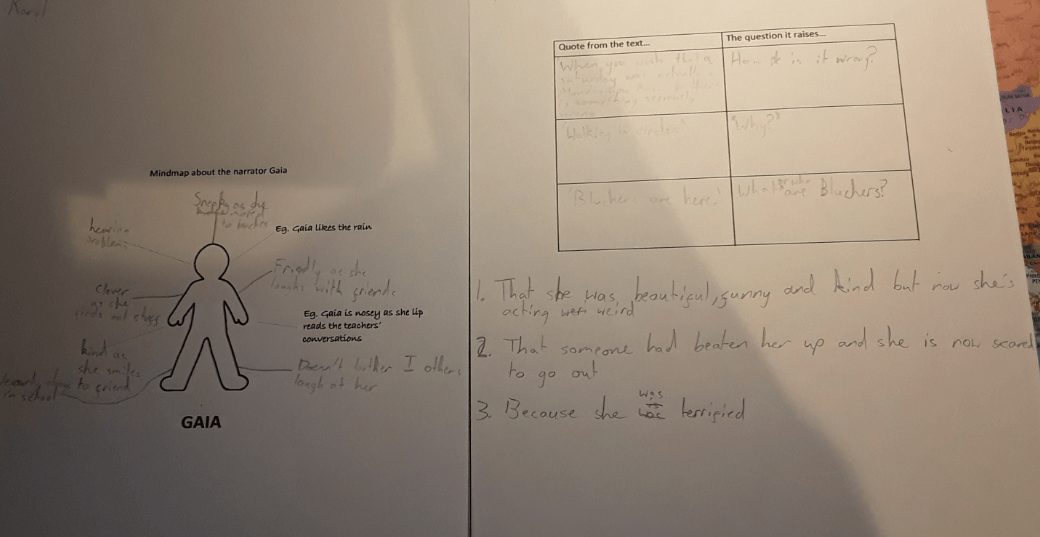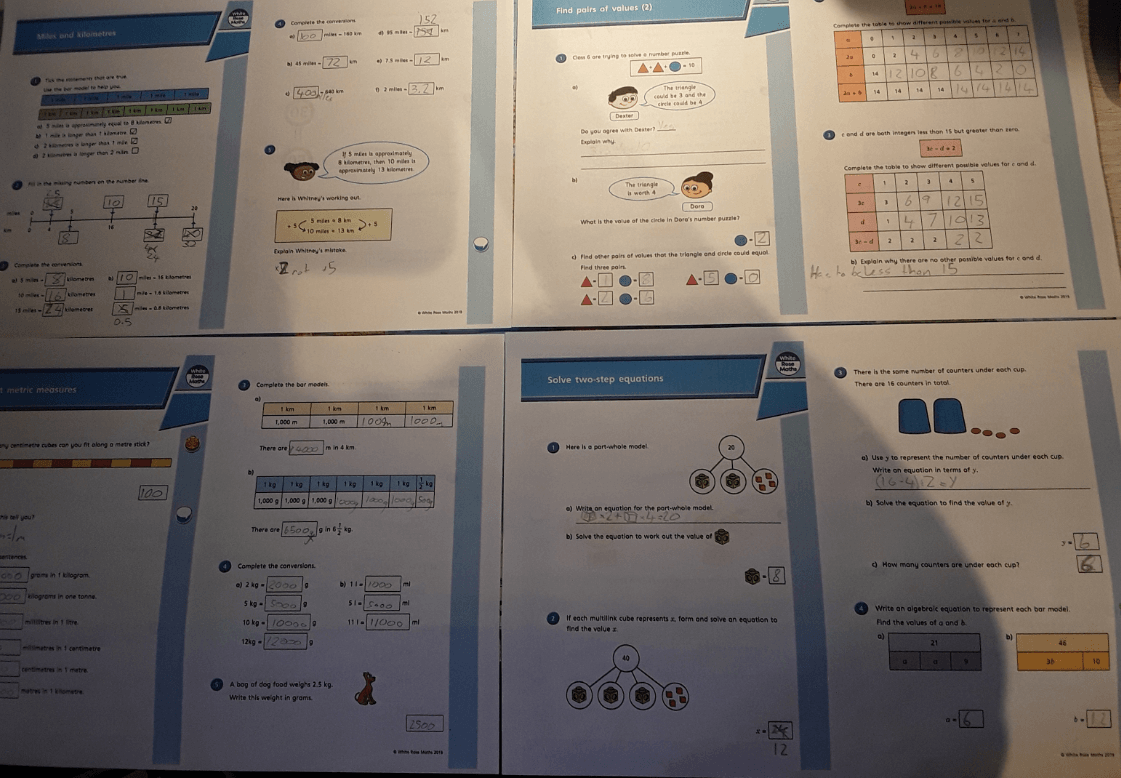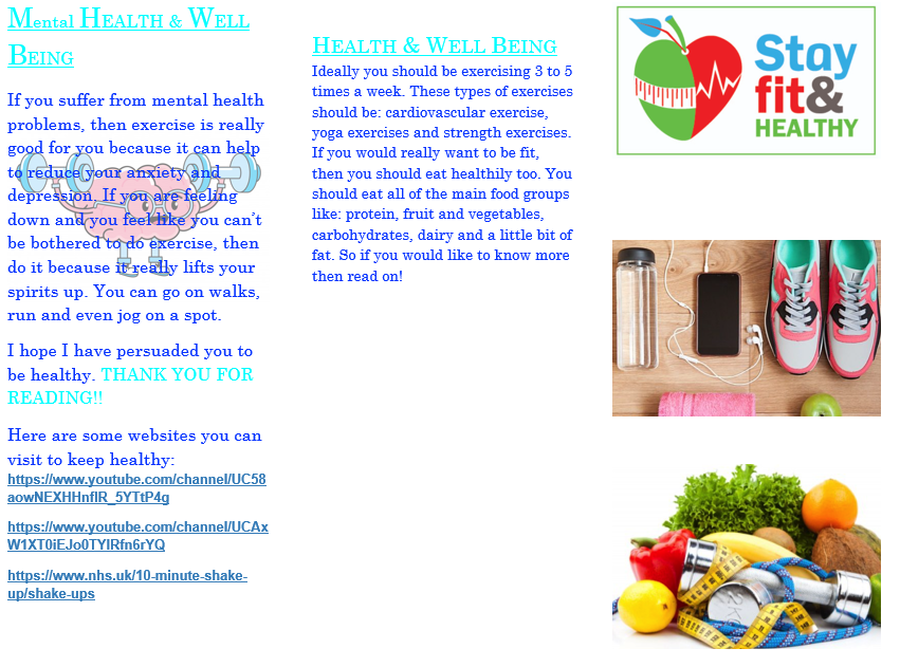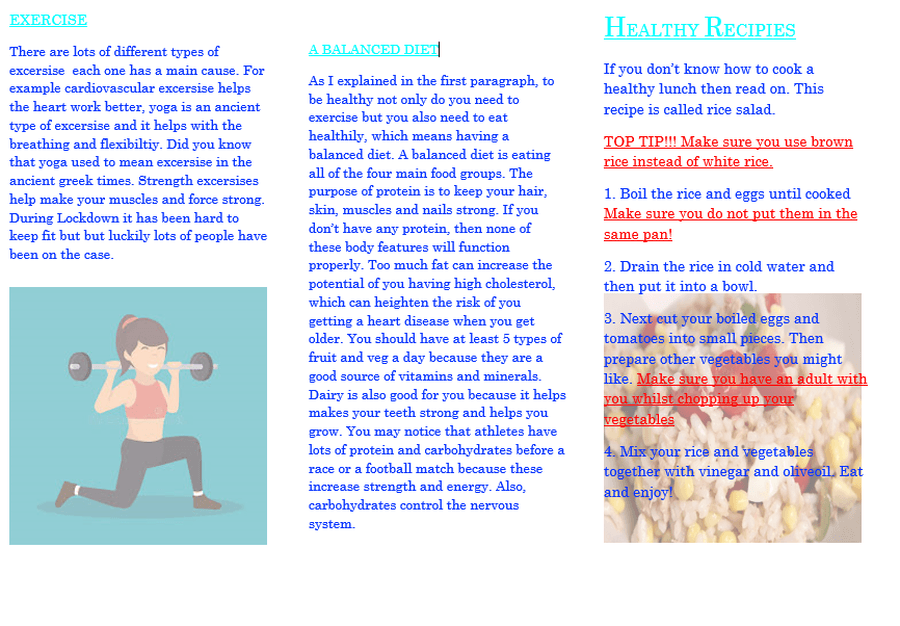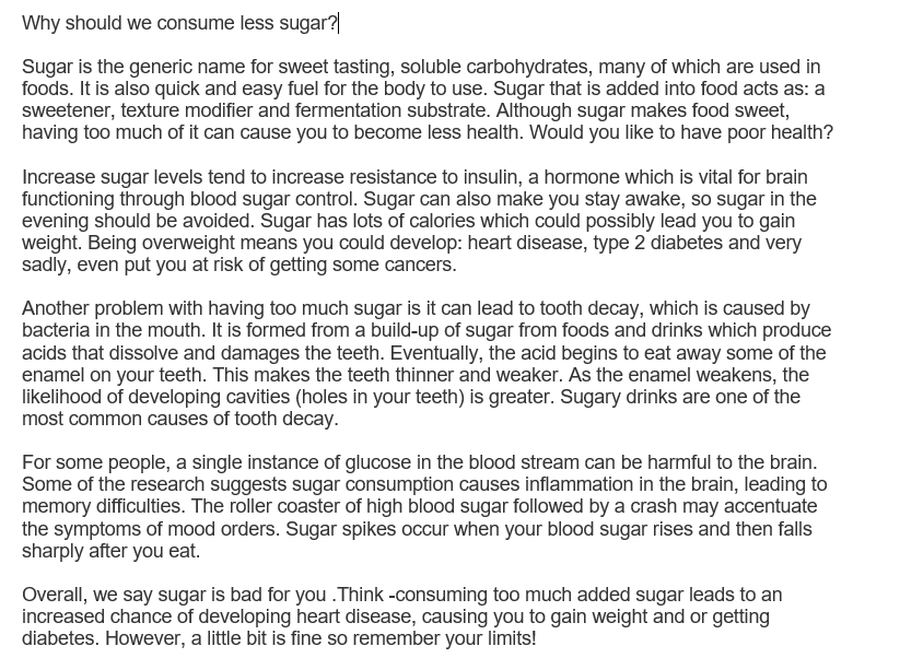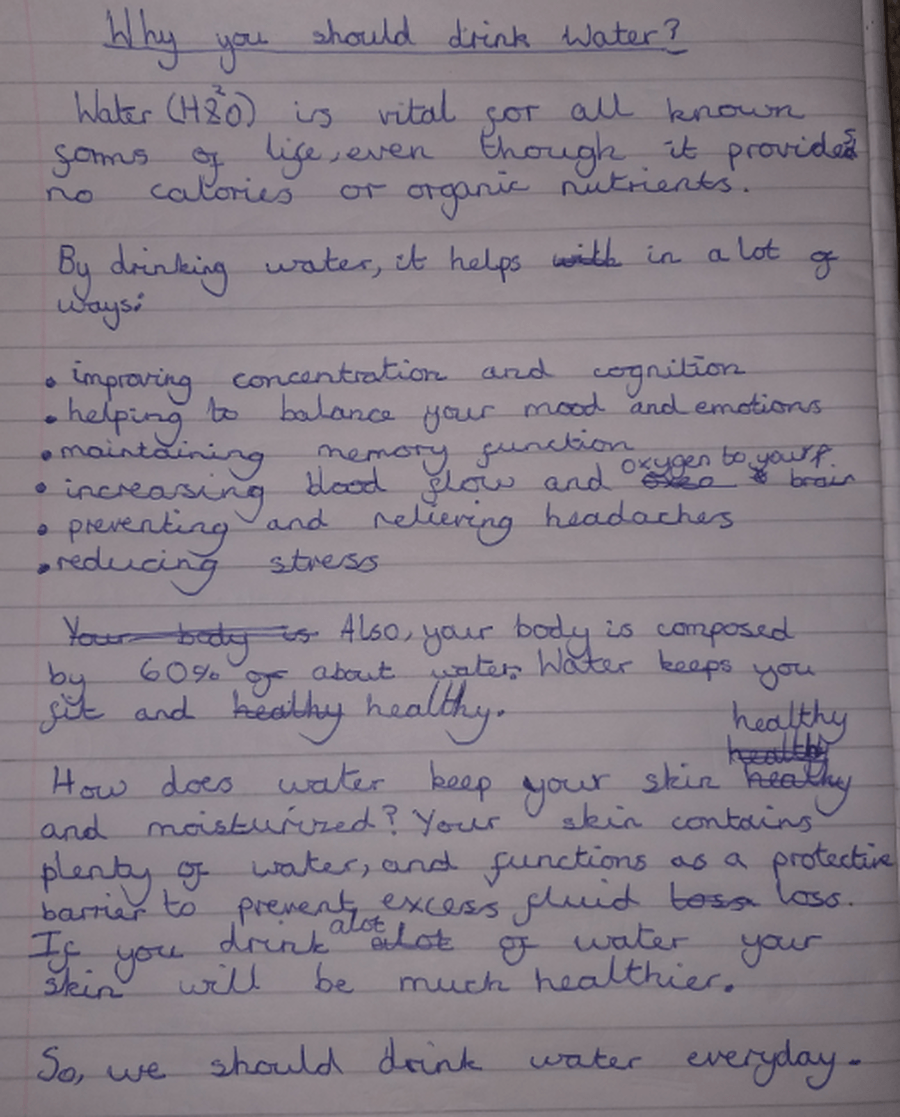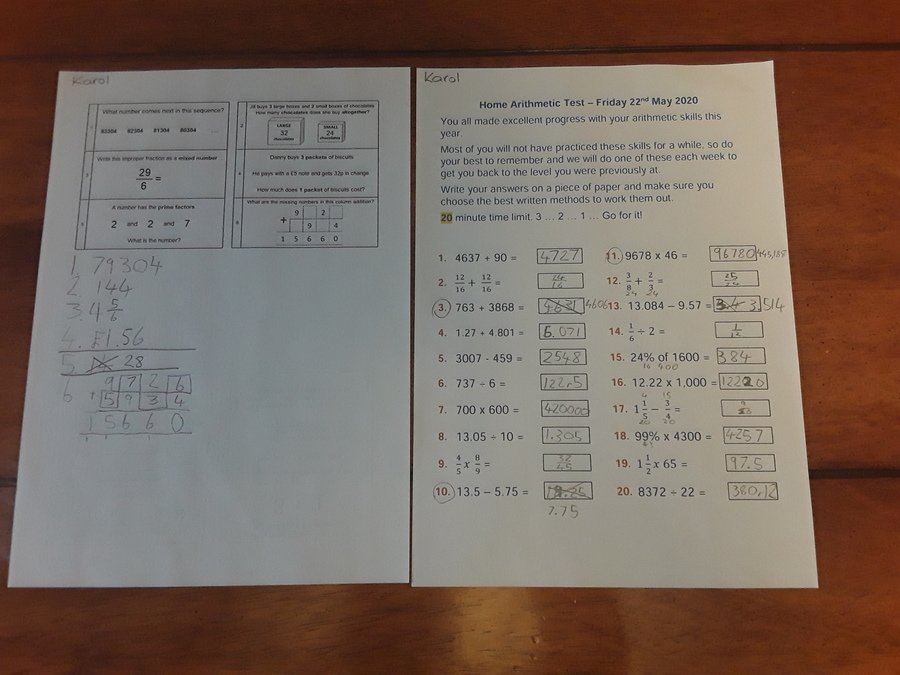 This week I have received only a few examples of your lovely writing but I would love to share them and the fantastic pictures of those pupils having a go at making their very own smoothies.
A massive shout-out to all you lovely year six's who sent me a fantastic piece of writing this week. You were asked to create a narrative about a predator sneaking up and eventually catching it's prey. You needed to carefully craft the story so that your reader felt excited by what they were reading. You wanted to make them question which would come out on top, predator or prey, just like in the David Attenborough clips ( which are of course thrilling real-life hunts). Some of you were a little rusty on your punctuation usage and editing but overall these pieces were very effective. Well done, I am super proud of you all.
This Week's Superstars

Some of these Rhinos may not have been awarded a golden ticket last week, but they still managed to produce some very impressive work.

Here is a selection of their work that has made us feel very proud indeed.

Olive

Olive has been busy working on her writing and maths.

Have a read of her newspaper article ...

One of the main achievements here is Olive found capturing the style really hard at first but with feedback from Mrs Taylor she has redrafted the piece and look at the results!

... and look at how hard she has been working on her maths to help her understand angles.

Eoin





He's been at it again!

Look at the range of work that this young man has produced.

He has thrown himself into the animals topic and carried out some research.

He's also been practicing his comprehension skills and finding out about paleontologists.

Have a look at this eye-catching piece of artwork. It's really creative and would look fantastic in a frame.

Oliver

Oliver has been doing his work on MyMaths.

He know how important it is to use the correct method and show your working out. Well done.

Thorne

Our final superstar of the week is Thorne.

Not only is he doing high quality maths work, but he is also working hard to keep his presentation at a high standard.

Look above and readthe wonderful work that Thorne has done about the Anglo Saxons.

He's also made sure that he is reading carefully when he is doing his comprehension work.
Having watched some videos, done some careful thinking and taken notes, Keoni has written this fantastic piece ,which describes the predator sneaking up on its prey. There are several twists and turns and it is a brilliant example of writing that creates suspense and makes the reader both anxious and excited. We can forgive the lack of capitalisation for December (which I'm sure he's picked up in his proofreading and editing) as he has captured the purpose for writing and style so well! Great work.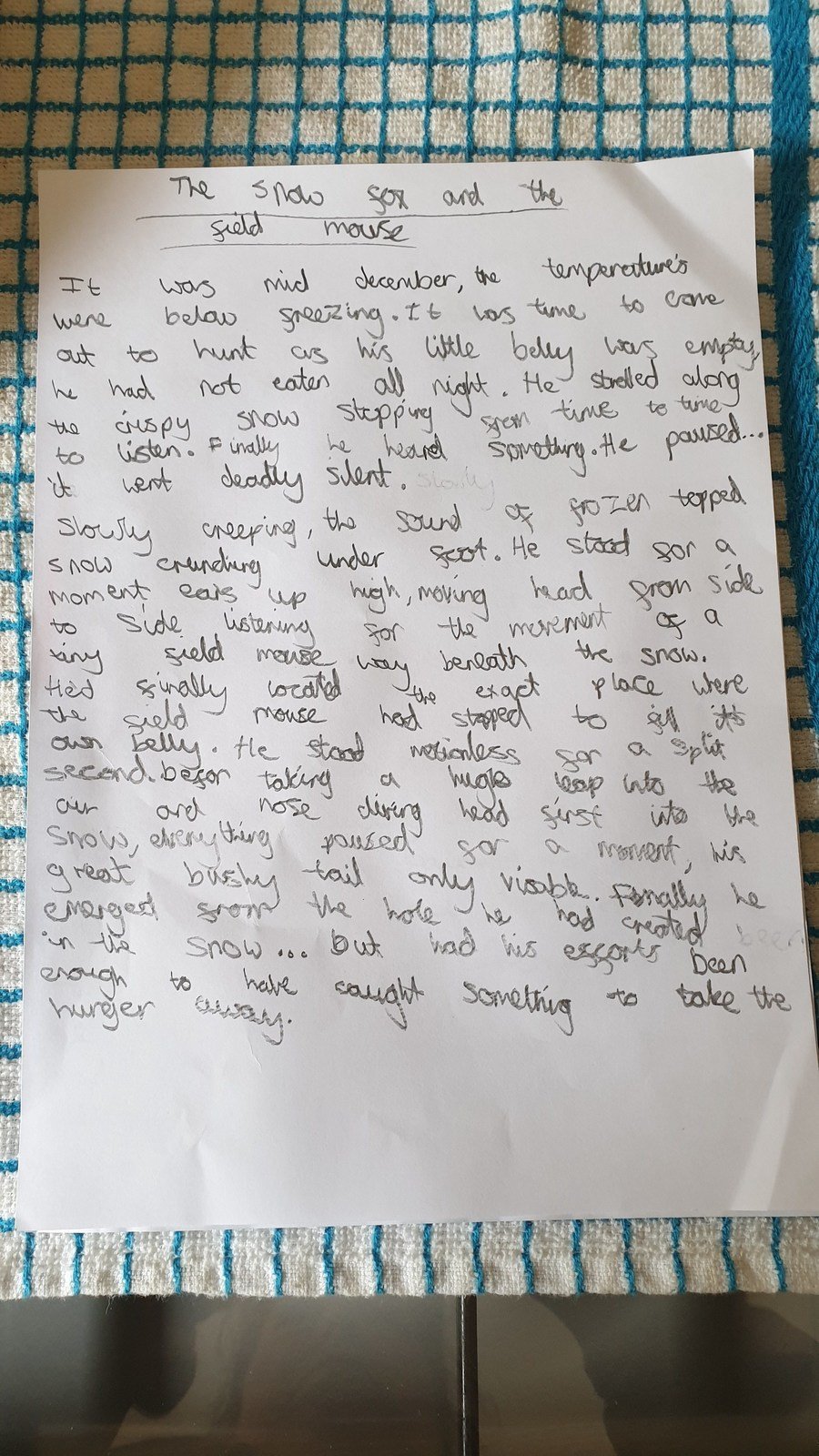 Golden Tickets
Golden tickets 8.5.20
We have had even more pupils engaging this week and have seen some great dedication to the Math's work and Reading. Please continue to send pictures of your lovely work.
Hall of Fame
We are super proud of all the effort some of you lovely year six's have put into your home learning. Here's a few people who have produced some excellent work and shown brilliant commitment over the last few weeks. Please keep up the hard work and let us know what you are getting up to. We would love you to email pictures of your work via EPortfolio.
There has been some lovely writing this week - Keoni has been keeping me up-to-date with what he has been doing by completing a lovely diary entry and lots of children have produced some newspaper reports.
As mentioned on her golden ticket, Ayla has made a fantastic Anglo-Saxon house as part of the home learning projects.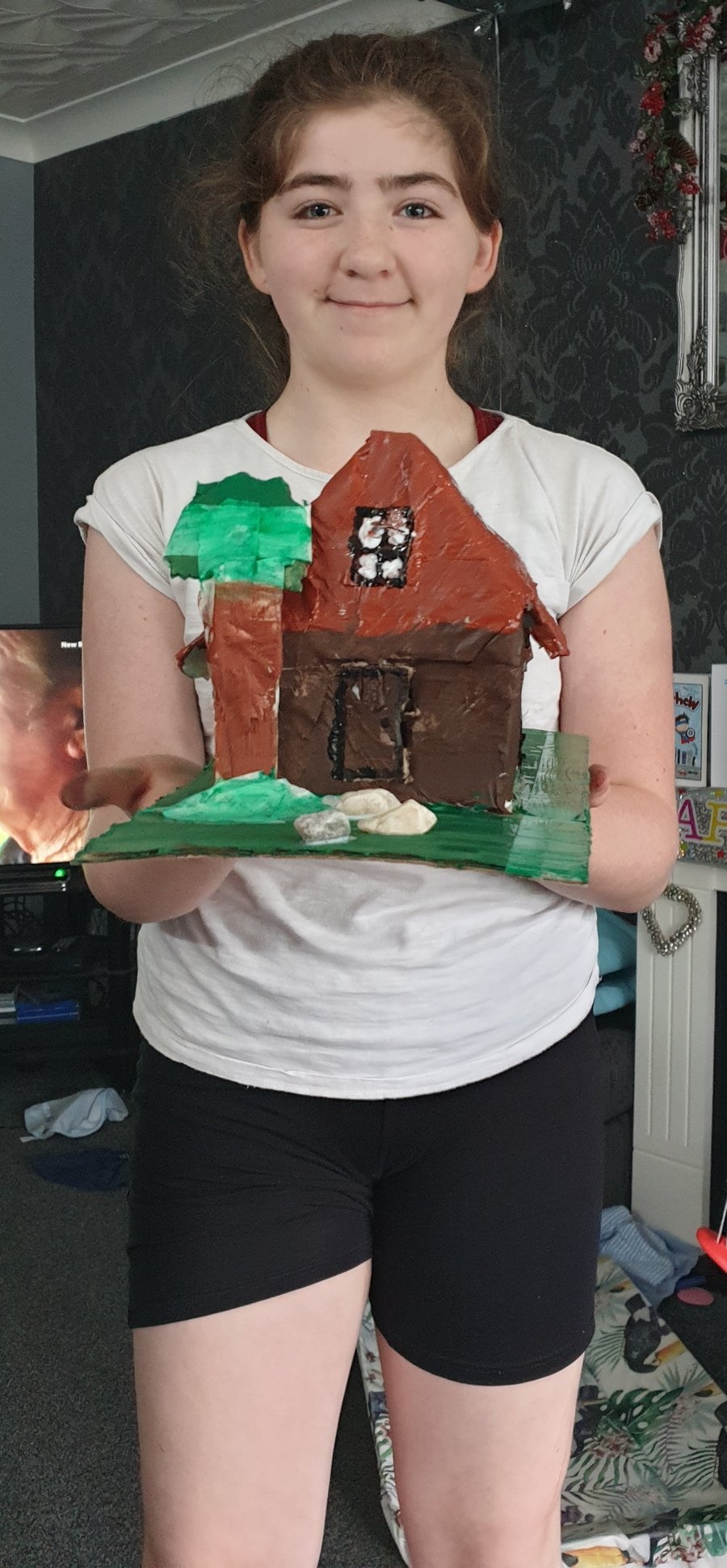 Chiraz has produced a really realistic newspaper report and I was impressed with how she managed to set it out with some of the features we have talked about in class: headline, strapline, by-line, columns and a picture.
Thorne has produced a lovely bit of Anglo-Saxon lettering after looking at this week's learning projects. If I were him, I would put this on my bedroom door, it is brilliant!
Eoin has been keeping his geography knowledge fresh and has noted where some of his family are from.
Chiraz and Naomi have written some diaries entries ,which are really nice for us all to read as they give us a brilliant insight into what they have been up to with their families.
Marek and Keoni have completed all of their home learning books and carefully practised their grammar so that they are ready to apply it to their writing over the coming weeks.
Kaci has conquered ratio on MyMaths and is feeling much more confident thanks to the Whiterose videos and emailing Mr Nunns.