Breakfast Club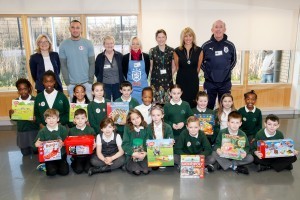 COVID19 UPDATE:
Our Breakfast Club has changed due to government restrictions around Covid19. The club now opens from 8.00am until 8.45am and has reduced capacity. Mrs Mellor opens the front gate at 7.55am and walks the children down to the Hall. Children arriving after the gates have been opened should walk down the footpath on their own. Hands are sanitised before children enter the Hall. KS1 children go to the Dance Studio and KS2 remain in the Hall. Unfortunately we cannot accommodate Reception or Nursery children. The front gates are closed at 8.15am and children arriving after this time may be refused entry.
We are extremely lucky to have been picked as one of the first six schools in Kirklees to have our Breakfast Club funded by the charitable trust set up by Huddersfield Town FC. This means that all the food for the club will be provided free of charge. The aim of the trust is to provide a breakfast to as many children as possible. The club is called 'Early Kick Off' to reflect its connections to the football club. The launch was on November 12th 2012 and attended by members of the Trust and club, including former Town player Andy Booth. Since then, the club has gone from strength to strength, with the average daily attendance being around eighty children. Huddersfield Town Foundation are still actively involved in our breakfast club. The photo above shows some of the members and trustees with toys and games they generously provided for the children.
The club is free to all children. Each session runs from 8.00am to 8.50am, with breakfast taking up the first half hour, followed by different activities. The children can choose from a range of healthy breakfast foods, including wholemeal toast, cereals, yoghurt, fruit and porridge. Please be aware that 8.20am is the latest children can arrive. The club is held in the Hall, so please bring your child to the Main Entrance. Due to the club's popularity, we have now had to introduce a booking system if you want your child to attend on a regular basis. Please speak to a member of the office staff in the first instance. For one-off situations, we can usually accommodate extra children. Please contact Mrs Mellor about this.
If you would like to volunteer to help at our Breakfast Club, please contact Mrs Mellor in school.
http://www.htafcfoundation.com/event/early-kick-off/